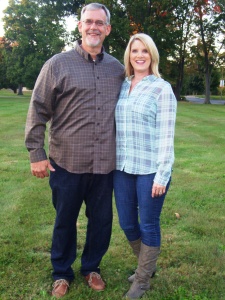 Is Christ's love Compelling you?
by Pastor Karen
As I was reading this week, this scripture stood out to me. Our Aim, our goal and our motive in this life AND in the next is to be well pleasing to God. The message says, "Cheerfully pleasing God is the main thing".
What pleases God? The obvious answer that comes to mind is FAITH – Hebrews 11:6… Without faith, it is impossible to please Him, but in the context of my main text, 2 Corinthians 5, I see something more.
We know that Jesus did only the Father's will (John 5:19; 6:38, Matthew 26:39). In John 5:30 Jesus said, "…for I seek not to please myself but him who sent me." If we are going to please God we need to do what Jesus did.
2 Corinthians 5:10 says we must all appear before the judgment seat of Christ, that each one may receive according to what he has done. In the context of this passage Paul is talking about sharing the Gospel! Vs. 11 says we work hard to persuade others, the Living Bible says, we work so hard to win others. So we know that Paul and his team were, but are WE working hard to persuade others? Are we trying hard to win others?
According to Paul, Christ's love controlled him – he was compelled and driven by desire to always put what was best for others ahead of his own needs. He made others his top priority so he could prepare them to stand before Christ one day.
Does Christ's love in our lives compel us to share the Gospel with the lost? We are no longer to live for ourselves but to allow God's love (agape) to flow through us and motivate us. This desire to win others is to be the reason we do everything we do. He tells us (vs. 16) that from now on we do not evaluate people from the flesh, what they have or what they look like. We do not view them in terms of natural value. Now we look inside – we see what God sees, someone who is valuable and precious, someone whom God loved so much He gave the best He had. We see a person who Jesus wants to give a fresh start.
Come on church. We are Ambassadors for Christ. It is our mission to tell everyone what Christ has done for them, what He desires to continue to do for them and how very much He loves them. Let's get started!!!